Description
Wonder is a virtual meeting app that enables people to engage in conversations with each other in a virtual space. It is designed for events like coffee breaks or workshops and for remote teams to improve collaboration and create a sense of togetherness.
My role
I joined Wonder as a Senior UX/UI designer and participated in the entire design process within the product team. My responsibilities included:
exploring new feature ideas
creating low and high-fidelity mockups in Figma
maintaining the design system
preparing and executing research plans
As a team, we established a robust Agile process. We achieved an impressive testing cadence of twice per week, which allowed us to validate designs at an early stage.

Opportunity
The graph above lacks a very important feedback loop based on usage data. I frequently asked the team: "What do we already know about the user behaviour in the product?" but nobody had any answers. I discovered that although we collected a significant amount of data on product usage, it was not widely accessible, and only a few key performance indicators (KPIs) were based on it. The product team did not incorporate this data into the decision-making process.
I saw this as an opportunity to improve the existing process. I acquired the necessary skills to:
Access data
Analyse data
Increase the visibility of data and insights across the entire company
I already had some knowledge of coding and statistics, which made the learning process easier. I completed several Udemy courses on SQL and BigQuery, thoroughly analysed the existing data setup and scheduled queries, and received assistance from an experienced external contractor.
Goal
The moment to get these skills was perfect as we were planning to implement Single Sign-On (SSO) that would completely change the onboarding and log-in experience. Our goal was to maintain the sign-up rate at the same level as before the introduction of this feature. I wanted to gather data to understand the impact of this change.
Process
The creation of the funnel required not only visualising query results but also:
Gaining a technical understanding of the log-in process
Ensuring data completeness
Collaborating with engineers to establish a new flow that would enable high-quality data reporting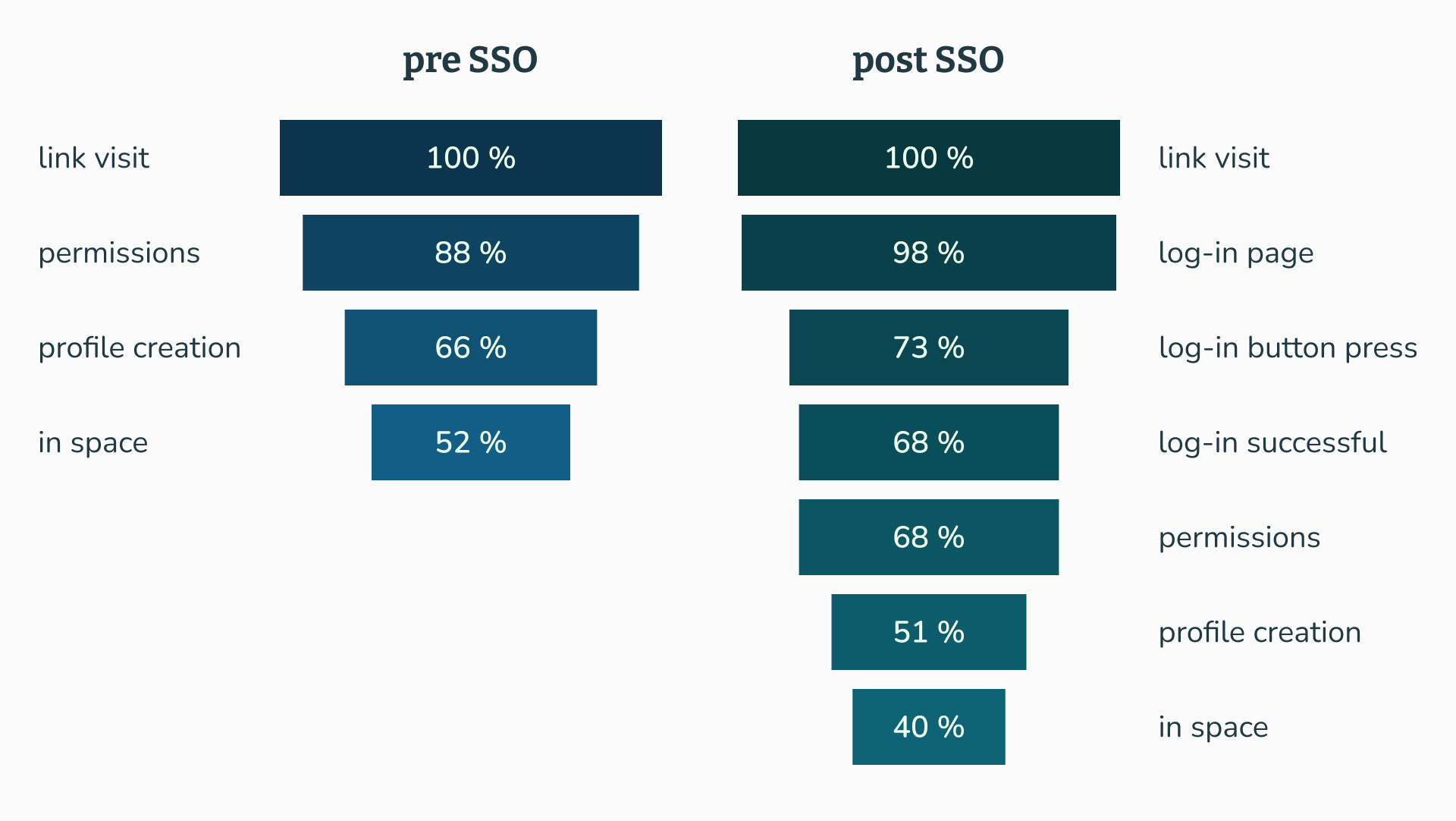 As you can see, we observed a 12 pp. drop in success rate. The newly acquired data enabled us to assess our performance and easily identify areas for improvement.
I conducted interview sessions with new admin users, focusing on the first-visit flow, and identified issues along the way. It became evident that our messaging regarding camera and microphone permissions was ambiguous, and profile creation posed a challenge. We improved the copy, streamlined the process from three to a single step, eliminated requirement from some input fields, and stopped using buttons in a disabled state.
After the changes, the success rate grew by 4 pp. for the transition between the "permissions" and "profile creation" steps, and by 10 pp. between the "profile creation" and "in space" steps. In the end, we've achieved similar conversion rates as before the introduction of the SSO.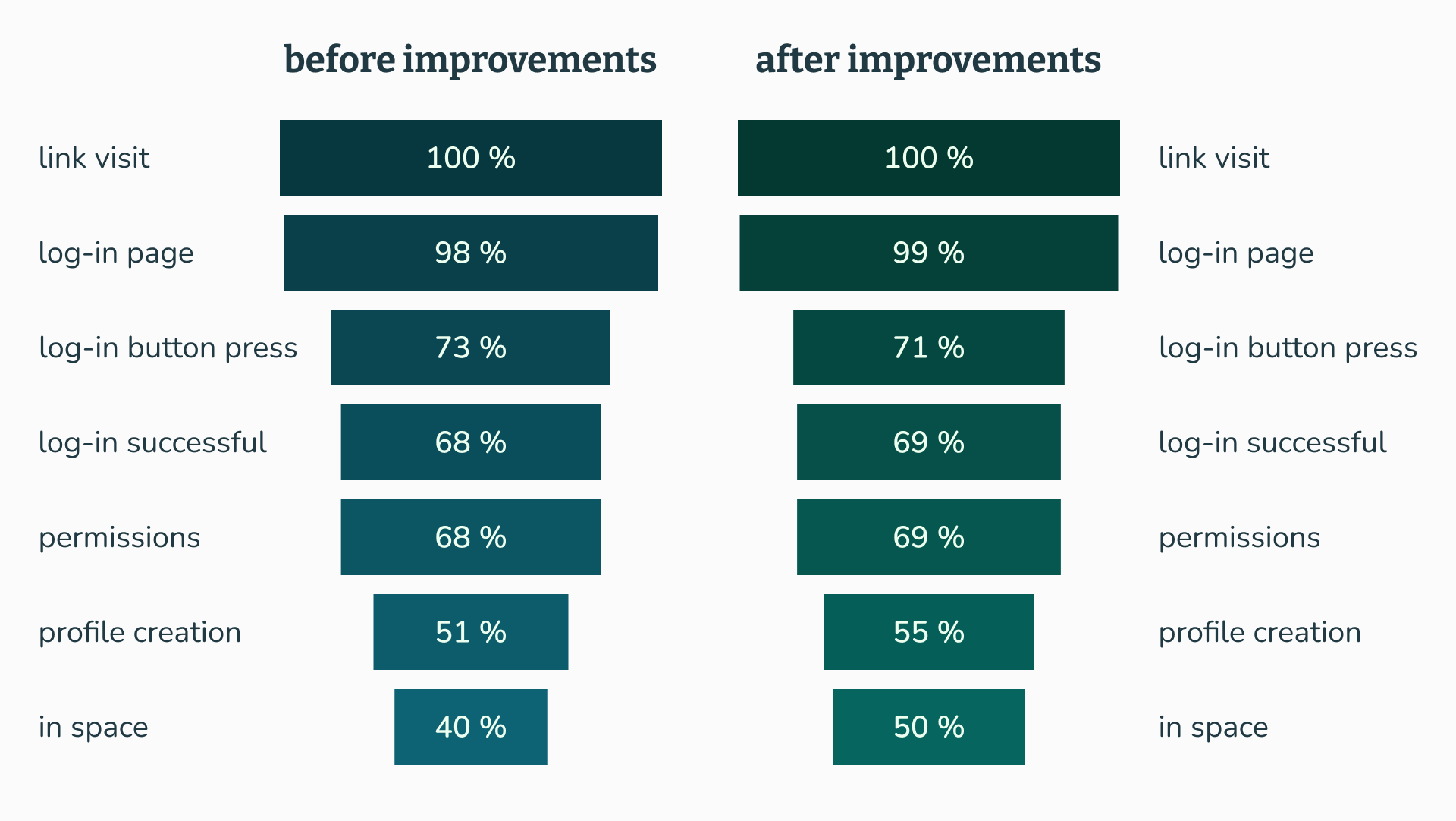 Impact
The ability to utilise data alongside robust qualitative research allowed us to accomplish much more:
Monitor feature usage to identify how popular they are, which features are not used, and which deserve more focus.
Obtain rapid feedback and validation when introducing new features.
Improvement of the design process to include expectations regarding collected data and expected outcomes.
Identify areas for qualitative research, which made it better targeted and more cost-effective.